I will be coming up on 6 years on blogging in August and honestly sometimes feel I am behind and not where I thought I would be. It seems so hard now with technology changing and everything being so fast paced to keep up (wow I sound old lol). I often feel intimidated by others who have been doing this in a short amount of time and have been reaching the level of success I've been trying to reach. I know I shouldn't question myself but I find myself doing that sometimes.
This industry can really seem over saturated to some and intimidating but there is room for everyone who has the right intentions. Everyone brings something different and unique which is refreshing. You don't want a bunch of bloggers out here talking the same way, posting about the same thing and just not bringing something different. I have changed my direction of my blog as I have been doing this but feel like I have found my niche. I do this every week because I love it, it is an outlet that is just me outside of everything else I do being a full time working mom, wife and so on. I love interacting and meeting people and just having a connection with others.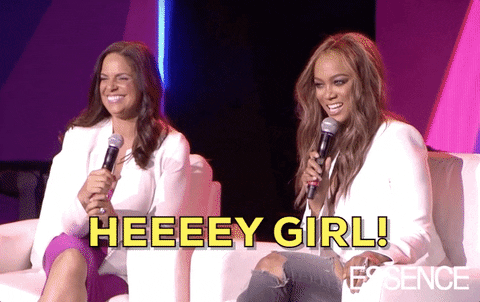 I love my online community that is growing and appreciate when people check me when I go off the deep end on my IG stories, give me encouragement and kind words. You guys keep me going when I receive a heartfelt comment that you appreciate me talking about Black Owned Businesses or to keep doing what I'm doing because I'm dope, it just makes my day. It makes forget about that thought of not wanting to do this anymore or being intimidated about someone else's success.
I honestly get super intimidated at times (maybe a couple times a week…) when I see my fellow blogger friends with all this engagement, people always reposting them and tell others to check them out, the sponsored posts and so on. Please don't get me wrong, I clap and cheer on their success. I am happy when other bloggers hit their goals and are just out here doing it!
I literally sit at my laptop or on my phone and start to wonder what am I not doing? I go down this rabbit hole of thoughts and start trying to analyze what I can improve on, how can I switch things up, how can I grab my audience better to I can have that engagement, what do I have to do? When those thoughts start, then here comes the self doubt and criticizing and just a lot. I have to stop, take a few steps back and check myself and just remind myself why I do this.
It can get hard out here but you have to remember why you are doing this and stay authentic to yourself. You are allowed those moments of frustration but as the saying IG goes, " You're allowed five minutes to be emotional then you gotta be gangster".
You should not let other people's success get to you. You just cheer for them, be happy for them and get focused on yourself. You are not in competition with anyone, we are all striving for success and should help each other along the way. I had to learn all of this the hard way and still learning.
Hope you guys have a great weekend and see you Wednesday!