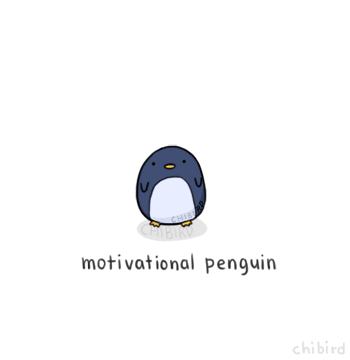 Isn't that penguin so cute? Lol, anyway I know we have all been at a place where we have lost the motivation to do something. It happens sometimes but the thing is to not be that way for too long or you'll never complete the tasks you were doing or get through the day. I've learned some tips for staying motivated when feeling sluggish or unmotivated. Hopefully something will help you out.
Do Something Fun To Take Your Mind Off Of Whatever You Are Trying To Do ( ex, play a quick game, make a quick TikTok video, etc)
Use The Reward System (ex, you get to watch your favorite show when you complete x,y,z)
Create a To-Do list (cross things off as you complete them, also use this along with the reward system)
Recite Positive Affirmations ( ex, I believe in myself, You get what you focus on, You can find an excuse or find a way)
Take A Walk And Get Fresh Air ( of course weather permitting but it always helps to get some fresh air)
What do you do to help keep you motivated? Have you tried anything I listed? Let's chat. See you guys Thursday!