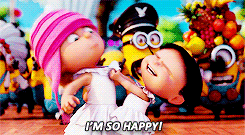 I know times have been rough lately and we are starting to see some light at the end of the tunnel. I know things won't be like they use to and we have to find joy and happiness where we can. I was doing a Google search the other day for blogging topics and came across this list of like over 100 blog posts and this was one that caught my attention. It made me stop and think about it. What does make me happy all the time? I sat there in front of my notebook for a while and it wasn't that much of a challenge to think of things. I wanted to list things that would bring an instant smile to my face and radiant joy whenever I thought about it.
My Son always makes me feel happy all the time. He may drive me crazy almost everyday but just the thought of that life I helped create just brings instant happiness.
I don't know what it is but whenever I have a cup of coffee, it makes me happy. If it is at home or from places like Starbucks, it just makes me happy.
When one of my favorite movies is on tv and I can catch it from the beginning, instant happiness. I love when it is a movie that I haven't seen in a while and something that would make me laugh or feel good. Also it makes me happy when I can watch it uninterrupted lol.
I love when I can sit and watch one of my favorite tv shows. I have been watching a lot of them on Netflix (currently watching Sister,Sister) and anything on tv. Another thing I love watching uninterrupted as well.
You know D Nice has really helped us through this pandemic and music has always been my instant go to for happiness. I can get lost for hours just listening, dancing around the house and singing. I love whenever he goes live on IG because it is always a good time and good music. I love listening to old school, Motown era music and teaching my son about some of the greats.
I really miss my family gatherings but the weekly family Zoom calls have been helping. I love that I can still see my family, even though it is not physical, we still can see each other and catch up. I just love laughing and joking with everyone. It just makes life a little easier and it brings me happiness.
If you didn't know, wine is my BFF lol. I love when I can indulge in a glass or two or a bottle of my favorite or trying something new. I have been branching out and trying new things and discovered some new favorite wines.
Last year when it was Spring and Summer, I would get up early, get washed up dressed, make a cup of coffee and sit in my backyard. It is just something about being outside that brings me happiness. In the morning it is so calm and quiet. I would just sit there and listen to nature, feel the breeze against my skin and feel the warmth of the sun. Also at night, we would light the fire pit, tiki torches and just sit and talk, listen to music or watch a show. There was just a calm about sitting outside at night as well that I loved.
This is probably the number one thing that brings me happiness is food. I love food lol and it makes me happy when I can enjoy my favorite foods and snacks on a daily basis. I love cooking and trying out new recipes from my cookbooks and ones that I find on Pinterest.
If you are reading this, let me know what brings you happiness and joy everyday and if you are a fellow blogger, I encourage you to do this post as well. We should all be sharing the joy and happiness like glitter, we really need it.