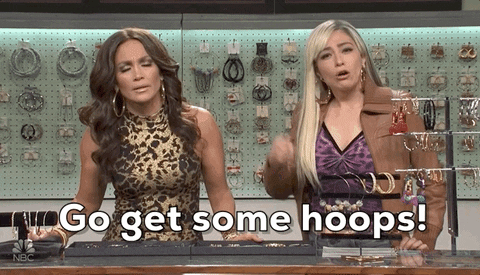 Since the start of the pandemic, I forgot about my jewelry and accessories. I didn't see a point in wearing them because I was just in the house all day and no one was going to see me at all. They have literally sat there and collected dust for a while lol. I would put something on to film a video sometime but I just wasn't in the mood for jewelry. Fast forward to now and I find myself wearing a little something around the house or when I go out to the store. There have been a few pieces that have been in heavy rotation lately and just wanted to share.
Fun fact about me, I wear more gold than silver. I just love the look of gold more but will wear silver when it fits better with an outfit. So on one of my many weekly trips to Target, I saw this 10 pack of earrings while waiting in line. I thought these would be perfect to wear around the house or when I don't feel like wearing hoops. I love how cute they are and the variety. They are lightweight and just so cute.
The hoops on the bottom right are my old faithful ones from Forever 21. I've had them for a while now and just love them so much. They are basically my go to earrings because I have either lost or broke the other gold hoops I had. I recently purchased the tear drop hoops from Hoop Mobb (which is a Black Owned Business) and these have become a new favorite as well. I love how lightweight they are and just give me around the way girl vibes (hopefully you know the LL Cool J song I referenced lol).
The Aquarius chain is from another Black Owned Business, Clarissa Lee Jewelry. I saw Andrea Renee talking about this brand on her IG stories or YouTube channel and decided to check them out. I was drawn to this necklace and it is just so cute. I will be purchasing more from this brand but I love how this necklace will basically go with everything you wear.
Lastly is my Resilient chain from Shft World (LatinX and woman owned brand). I've had this chain for a while and I just feel so empowered whenever I wear it. Resilient is one of my words for this year and when I saw that this chain was dropping on the site, I had to get it. This chain also gives me around the way girl vibes and it is just so dope.
I'm slowly getting back into wearing my jewelry on a regular basis (I have a lot lol) but will continue to share when I have new favorites or picked up something new. What are some of your favorite jewelry pieces you love to wear? Let's chat. See you guys Thursday!