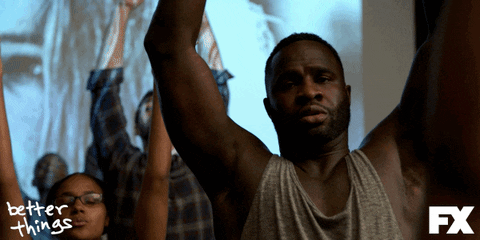 I feel better but still feel a little blah. I don't feel as angry and sad anymore but there is still this cloud of fear and doubt hanging around. I am grateful to see some of these cases start to go to trial and people being held accountable but this honestly sparked a worldwide debate about race. People are still not seeing the point of #BlackLivesMatter and how we feel. I feel that people will never get it and we will still be fighting to be treated equally and respected. It is tiring, I'm tired of being tired and change needs to happen like yesterday.
On a brighter note, I recently celebrated my 3 year wedding anniversary on the 4th. We unfortunately had a power outage during that time but we were still able to celebrate the occasion thanks to a couple friends. I wanted to plan a long weekend away but there is always next year. Damn you Rona.
I'm focused on trying to get back into a better mental space and still navigate through this pandemic. 2020 has really thrown way too much at us and I think I had enough. It is only been 6 months in a so much has happened. I know we are all looking for a break and for things to start getting better. I am still weary of the unknown of this virus, when it will exactly taper down and it is completely safe. I know they are starting to open things up in phases but I'm still going to stay away for the time being. It is just all so crazy now.
I am currently reading Becoming by our Forever First Lady Michelle Obama finally. I've had the book since it was released and just haven't gotten around to it but I have time now lol. I finished Elaine Welteroth's More Than Enough and will have a review on that next week. I feel like this pandemic, social distancing, quarentine has been a good thing in a way. I am learning to appreciate family more and get to things I've been putting off for so long like reading. I feel like I have so much more time to read and dive into these books that have been collecting dust lol.
I know we'll get through this and things will hopefully get better. There is just so much tension in the world now and all we want is for our lives to matter as much as everyone else's. I am just glad I am in a better mental state because it was rough and just a lot. I think we all are just getting back to being somewhat normal feeling but there is still so much more that needs to happen. I just pray for change and pray that our children do not have to deal with this.