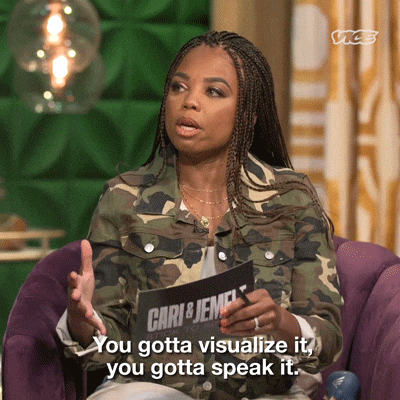 2022 has started out a bit crazy but I feel like things are starting to settle down a bit….I hope. At the beginning of the year, I set my intentions for 2022 to be about me. I feel like I don't take care of myself enough and can't continue into a new year like this. I would literally put everything and everyone else before myself and it was taking such a hard toll on me physically and mentally. We are not doing that this year. The goal this year is to be better than last year and just keep elevating. In today's post, I will be getting more in depth about my intentions for this year.
Focus On Myself
I honestly can't continue to pour and keep running on empty and on fumes all the time. I need to make myself a priority and it is long overdue. There are two areas of myself that I will be mainly focusing on, my physical and mental health. I haven't worked out since March 2020 and like everyone else, gained that Rona weight. This really took a toll on me because I started to hate what I saw when I looked in the mirror. I didn't like the fact that I had to purge majority of my wardrobe and basically start over. It was a lot for me to deal with. I just lost the motivation to be active, eat right and work out. I'm not sure why but I'mm trying to find my way back. I don't want to be this unhealthy coming into the new year, I want to be around especially for my son. I don't want to be out of shape and not feeling good about myself when I look at myself. This year I will be focusing on a plan to getting back into working out consistently again, eating healthier and feeling good about myself. I don't have it all mapped out yet but will update as soon as I do.
I'm not sure why I have been so afraid to go to therapy but this year I will get there, even if it is one session. I really feel like it is so needed for myself especially what I've been through and currently going through at my place of employment. I want to just be in a better mental headspace and be more positive. I also want to get out of the self sabotaging, doubting and second guessing myself all the time and stop the negative thoughts. I know this may take longer than a year to accomplish but I just need to start so I can be in a better space. I also want to work on having more of that time to myself, more self care and self love. Another plan I'll have to map and research but will get done this year.
Another thing I wanted to focus on is to stop making empty promises to myself. I do a lot of "talking" saying I want to do this and that and never do it. I want to be true to my word and stop doing that to myself. I feel like I've missed out on so many opportunities or things because I didn't follow through or actually do what I set out to do. Something else that will be a work in progress. I also want to continue reading more. I have a list of 7 books that I would love to read this year and it has a bit of a slow start. My goal is read everyday but sometimes life gets in the way. I really need to also make this priority so these books stop collecting dust lol.
Focus on Financial Status and Stability
This is another big thing I want to focus on this year because I can't continue on this financial cycle I've been on the past few years. It has been truly frustrating and feel like I really need to change things. I've been trying to figure out a way to have more than one stream of income lately and just haven't been successful. It has been a little stressful living paycheck to paycheck and having wait until the next pay to have money and then continuing that same cycle every 2 weeks. It is just a lot when I'm at a place where I am not making enough to maintain my life and save. I've literally had enough. I need to learn how to budget my money and save better so I am not in this situation. I want to learn how to just be better with my money and not feel so frustrated with it.
I also want to work on my content of course but that will be in another post. I feel like this will be a lot but if I work on things one at a time and not overwhelm myself, I can accomplish my goals for this year. I don't know what this year may bring because it has been super unpredictable since 2020 lol. Did you set any goals or intentions for this year? Let's chat. See you guys later this week.