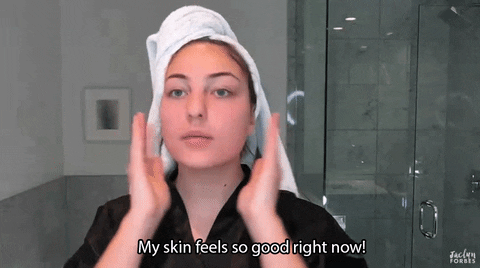 I feel like it has been a little difficult to still stick to your normal routine and keep up with everything that is going on. I know that I'm thrown off and haven't been taking care of my skin like I should be. I know my skin looks amazing sometimes on camera but it can be filters and lighting, its not perfect all the time. I have my occasional breakouts, discoloration, dark marks and so on. I struggle like some of us with not touching our face, we talk on the phone a lot and our skin is exposed to the elements.
I recently asked a few questions on my IG stories about what content you guys wanted to see more of and skincare was the most requested. After doing a little brainstorming, it gave me an idea. But before we get into that, let me give you a little background on my skin. I have combination skin with an oily T-Zone and the rest of my skin is normal. During the colder months, my skin gets really dry and when it gets warmer, it is oily all over. I recently discovered that I can't use eye creams anymore because it broke me out really bad last year. Sometimes out of nowhere a product that has been working really well will randomly break me out or give me a really back reaction.
My current routine is cleansing my skin twice a day (and sometimes it does not happen). The normal steps I do is cleanse, tone, sunscreen (only in the morning) and moisturize. I did have a serum I would only use at night but got scared after the eye cream break fiasco. I try to exfoliate my skin twice a week and use a mask 1-2 times a week as well. It has not been so consistent as of lately and that needs to change.
Now on to the idea that I had for skincare lol. I want to come up with a set skincare regimen/routine and try it out for 2 weeks to see how my skin will react or improve. I'll document how the routine goes and report back after 2 weeks. Now here are a few pics of how my skin is currently looking. Also I forgot to mention that I do have large pores around my nose and some textured skin in that area as well.
I'm still coming up with the routine but you will get an update soon. Do you have a skincare routine? What products are you currently using?