When you have a vision in mind or thinking of a really great idea, you shouldn't hold it in because you never know how it may manifest. You never know how it may flourish or grow if you don't try. I remember when Tasha slid in my DM's and asked me to save the date, I was wondering what she was up to until this event of hers was announced. I was so excited and happy for her and couldn't wait to attend the 1st Annual Content CreateHer Conference!
I met Tasha of The Regal Lady ( a blog and person ya'll should be following) at BlogHer last year. We have been corresponding through Instagram and met up again at The Bold Experience. I watched her platform grow and level up over this year and just love when my fellow blogger friends are out her winning and slaying in these streets okay!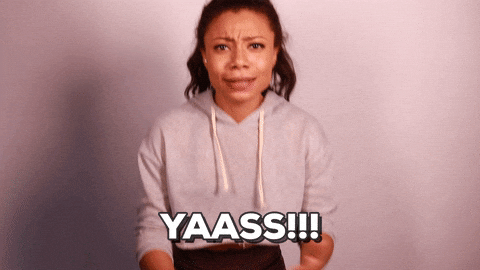 I didn't take too many pictures at the event because I was too busy taking notes and soaking up all the gems that were being dropped. I wanted to be more present in the moment but did capture a lot on my Instagram Stories (I have the highlight saved on my profile and hopefully you are following me, naturalle_drea). We learned so much about how to get started when you have an idea, how to determine followers vs community, how to use analytics, tech tools to use and how to get the attention of brands. I don't want to draw out this post too much but want to give you my key take aways from the day. SN: is this cute? The decor was on point too, loved it!
Determine Your Why
This phrase of knowing your why was within each speaker's message. Why are you creating content? What is your purpose? This is super important when you are trying to build your platform, it should be one of the first things you figure out before starting. Another important thing to have is a mission statement for your brand/blog/platform which is something I never created or thought to have. The mission statement and knowing your why pretty much go hand in hand when you are building your platform. I have some homework to do with creating a mission statement for Naturalle Drea lol.
Engage With Your Audience
Have you followed one of those accounts where you like and comment on pictures and no response? You reply to their stories and nothing? Or you slid in their DM's asking a question and they leave you on read? Would you want to keep following that person if they don't respond to you? I wouldn't and engaging with your audience is how you build your community and organic following. It is so important to know who is following you and engage with them by liking and responding to comments, answering DM's, even liking and commenting on their pictures. You want to keep growing your community and have them tell their tribe to start following you as well.
Your Tribe
I am pretty sure you have seen all the sayings and quotes on Instagram about tribes and most likely have reposted some of them. I know I have lol and your tribe is so important. You want people in your tribe that will hold you accountable, support and cheer for you, wants to see everyone win and just a positive, motivational circle of friends. You should not have people in your circle that are always trying to talk down about your dreams, never support you, talks negatively and you always get a bad vibe from. If you have that in your tribe, its time to distance yourself and remove that person from your circle.
I love how this conference was geared towards us micro bloggers that are trying to stand out and grow our brands. All the information and tools given were to help us stop trying to chase numbers, build an actual community and help get noticed by brands. Success is the goal for everyone and this conference was so helpful to achieving that. The 1st annual Content CreateHer Conference was just everything! The vibe was there, I connected with some amazing women, met some people in real life, gained some insight on how I can improve and supported my fellow blogger friend on her first successful event. Oh and didn't I mention we were hooked up with the swag bag? I don't think I ever walked away with a swag bag that was just about stuffed with amazing things. I can't wait for next year and I suggest following the conference's page so you don't miss out.
Hope you guys have a great weekend, see you next week.