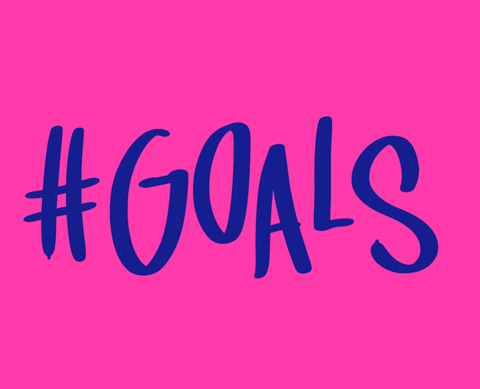 I split my goals and intentions for the year into creator and personal goals. It seems like I'm trying to do a lot but I feel like all these goals are attainable for me to achieve this year. I briefly talked about my creator goals for this year during Vlogmas and actually did a video on them as well. But I did say I would go into more detail on here so let's get into them! I will also link the video at the end of this post.
Grow On All Social Media Platforms
Last year I set a goal to grow to 1,000 followers on Instagram and it didn't happen. I'm determined to reach that goal by the end of this year. I honestly want to grow on all the social media platforms I have. I was so happy when I gained a few subscribers on YouTube during Vlogmas. I want to retain those who subscribed and continue to grow. I plan on expanding to posting 2 videos a week on YouTube and I know that is going to take some planning and being super organized. My goal is to get to the point where I start monitizing and making money from the content I create. The three main platforms I want to focus on growing is Instagram (1k follower by the end of the year), YouTube (1k subscribers by the end of the year) and here on the blog (don't have a number in mind lol). As much as I love creating content, I want to continue growing and start making some money from it. The rest of my creator goal kinda go along with this one.
Be More Engaging On Social Media
I feel like being more engaged with others does help with growth. I do engage but feel like I can do a lot more. It is hard for me to like, comment and share other's content during the day because my workload is a lot and I may not have the time. Also since we moved into our new office, the phone service runs super slow so it is hard to hop on and comment when I have a free moment because it is super slow lol. I just need to find time before and after work to read you blog posts, comment, share and also do the same on social media. I'll figure it out.
Create Blogging/Editing/Filming Schedule
Speaking of finding time to do things, I really need to have an actual schedule for creating content. I am usually up the night before filming, editing, blogging and so on. It would be so much easier to have a set schedule to have things scheduled and done ahead of time. It can be hard sometimes because there are days I come home from work and don't feel like doing anything. I also don't want to be doing things over the weekend because my son is in sports, I want to relax and other things to do as well. I know this will be a bit of a challenge but I know if I get this schedule together, things would be so much easier. Like right now, I am doing this post the night before and it would have been nice have this already scheduled and ready to go.
Collaborate With Other Creators/Bloggers
I also feel like I need to collaborate more with other creators and bloggers. I've seen what it can do for others and honestly should have been doing this. I know a few people have messaged me wanting to collaborate and it just never happened. But I feel like a lot of people are not in the same niche I am in or they are at the level where I have to pay to even ask a question or collaborate with them. I know I can't be scared to ask or talk to others but I feel like it would really help.
Collaborate/ Pitch To Brands
I would love to start working with brands more. I was grateful to have a sponsored post last year and be sent a couple PR packages but would love to expand on that. I love reviewing and trying out new products and it honestly doesn't hurt to pitch to brands or are we no longer doing that? I know they say wait for the brands to come to you but it doesn't hurt to pitch to them. I just need to make a list of brands I want to work with, get my rate sheet and pitch email together.
Purchase New Camera For Filming and Pictures
I think it is time for a new camera. I am so grateful for my Sony A5100 that I have been using for the past few years but I think it is time to upgrade. I would love more crisp and clear videos along with better quality pictures. I set a budget of 700-900 to spend on a new camera. I know the better quality ones go for a lot more but I know I can find something in my range and then save up again to upgrade. I started doing my research last year and just need to continue and save until I get a new camera.
Find A Dedicated Space To Film
Hopefully you are subscribed to my YouTube channel but I've been filming all of my videos in the bathroom. I used to have space for my lighting and backdrops but it is hard. I really do need to find a dedicated space in my house to film and change the scenery.
Try New Things/Learn New Filming/Editing/Photography Techniques
I always wanted to try new things and learn new techniques so I can improve my content. I know there are classes and just trying things out to get better. I'm excited!