Along with being asked about my hair and makeup, I get asked about my skincare routine. Of course black don't crack but you still have to take care of it. Skincare is something I will spend my coins on if it helps with anti aging, moisture and brightness.
I have combination skin, an oily T-zone and everywhere else is normal for the most part. My skin tends to be drier in the colder seasons and pretty oily when it is warm outside. My skin can be very funny with certain skincare products. I normally can't stick to one products because my skin will randomly breakout or act crazy. I'm not skincare expert but these tips I am about to share have helped my maintain my skin looking radiant and healthy.
Drink Plenty of Water
I know that this one is debatable but I believe in this one. I used to hate drinking water because it had no taste and I didn't like to when I was younger lol. I have noticed a big difference in the way my skin looks when I started to drink more water. I normally drink 2 liters of water a day and constantly running to the bathroom lol. I know some people who drink a gallon a day, it is all your preference. I purchased this bottle from Amazon and I love it because I can infuse my water to make it more interesting. I fill the bottle up twice during the day. You can catch me normally drinking lemon water or some other combo.
Washing Your Face Morning and Night
I know some people who only wash their face in the morning and just go to bed at night. You are out all day in the environment, probably touching your face more than once, you wear makeup, if you talk on the phone most of the day, you have that receiver to your face all day and so on. You need to wash the day off basically lol especially if you wear makeup like myself.
**Lazy Tip, if you are like me and dread washing the makeup off at the end of the night, use a makeup remover wipe (I love the ones by Alcone or Neutrogena) to take off the makeup and then use a micellar water (I love the ones by Garnier and Urban Hydration) to cleanse the rest of your face. You are removing the makeup and dirt off of your face at least before going to bed.**
Also another tip is to dry your face off with a clean towel or paper towel. I was guilty of drying off my face with the towel I use for my body and couldn't figure out why my skin was breaking out and not clearing up. You need to use something clean to dry your face or you can just let it air dry.
SPF, SPF, SPF
You really have to protect your skin, especially from the sun. You have to protect to all the time because you only get one. You want to look for a moisturizer with SPF or one to apply under your moisturizer. I am currently using this moisturizer by Neutrogena which contains and SPF. If you use any other SPF please let me know.
Treat Your Skin, Exfoliate and Masks
Besides washing your face twice a day, you need to treat your skin as well. I try to exfoliate my skin at least twice a week and use masks once a week. Exfoliating your skin helps to remove the dead skin and masks have a lot of amazing benefits such as hydration, brightening, pore minimizing and so much more. Here are a few of of my favorites.
Keep Your Routine Simple
I thought I had to use all these products and do all these skincare steps for flawless skin. I was using cleanser, toner, essence, eye cream, SPF, moisturizers, the Holy Spirit, setting mist and so on and it was beginning to become too much. I realized that I didn't need all the extra steps for my skincare routine. I recently realized I can't use eye creams now because I had a pretty bad reaction to one. It may work for some people and it may not work for others. You honestly have to do what works for you but your skincare regimen shouldn't be so complicated. Just try some things out and see what works for you.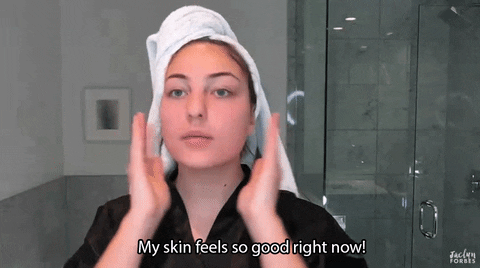 So that is it for my skincare tips. What are some tips you follow when it comes to skincare? Comment below and let me know. See you guys tomorrow!